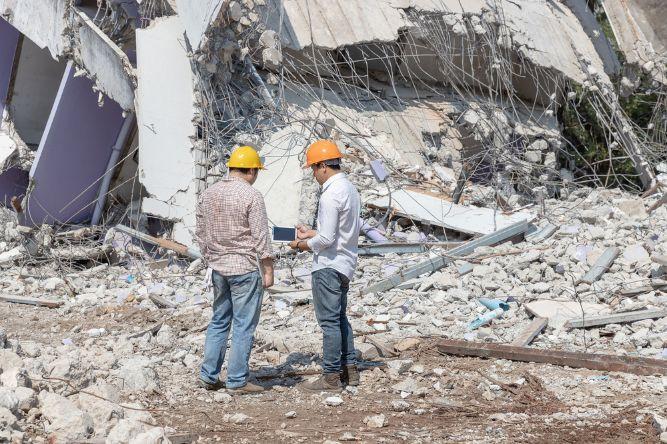 There are times when a building simply must be torn down sooner rather than later. Demolition contractors are often booked out when it comes to moving projects along, but a disaster response team may be required when a building is no longer structurally safe. What should you know about emergency demolition and disaster response? 
Here is a quick breakdown of what you can expect when a building no longer meets the safety requirements to remain standing:
When Is Emergency Demolition Required?
Sometimes, you just can't wait for a building to be torn down because of a safety concern. While a usable building might sit on a lot for a long time until someone new comes around to buy it and tear it down to build something new and more efficient, this isn't always the case.
An emergency response may be required by local governments. This often happens when disaster strikes and a property is in serious danger of collapse.
To minimize the effects on the community and keep everyone safe, a federal emergency management agency may require a building to be torn down quickly before it falls. Disaster response teams may come in for emergency demolition following natural disasters. After such an event, it is quite common to see buildings that are no longer structurally sound.
Emergency response actions may also be called for after a structural fire or a strong wind storm.
What Are Emergency Demolition Contractors?
An emergency response demolition crew can make quick work of these conditions to protect human health. They are skilled at emergency procedures and debris management to keep everyone safe. They can even work with other federal agencies to ensure the job is done properly.
A demolition contractor is trained in managing large projects and large amounts of debris. They must be extra careful around structures that are inherently unstable. In addition, they must often be flexible in order to be available whenever emergency responses arise.
Make sure to hire a crew experienced in disasters, as demolition projects can often be tricky and may present new problems.
Emergency demolition contractors provide a range of services beyond just the demolition. They might handle the removal of hazardous materials such as those containing asbestos. Some services may help you handle the wood, metal, and other debris that come from tearing down an existing structure.
Know in advance what services you need before you hire a team of professionals.
Do You Need Emergency Demolition?
It always helps to have emergency preparedness when it comes to the construction process. You need a team of professionals who can show up promptly and respond quickly to reduce injuries from the potential impacts of a structurally unsound building.
Emergency demolition in Winnipeg is easier to find than ever with Winnipeg Demolition. Call us today to learn more about how we can help you with demolition, debris removal, and more after an event occurs to make your building unstable.