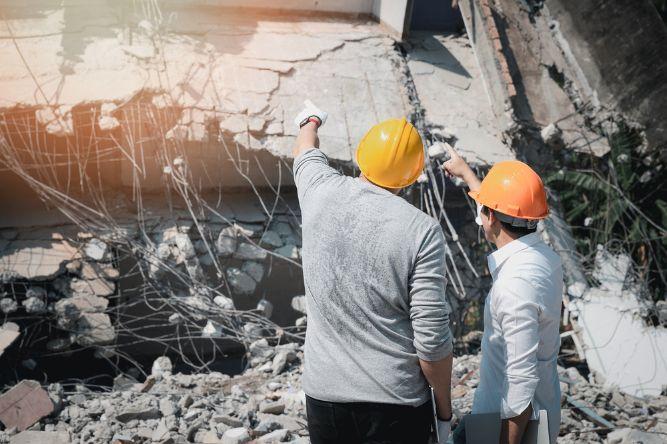 When you're facing a major project, it's important to understand what options are available to you. Some buildings are better off being demolished, while others should be deconstructed in a more mindful manner. There's nothing inherently wrong with either method, but the decision will impact your budget and the environment. How do you know which process you should consider for your next major project?
Learn more about the differences between demolition and deconstruction here to figure out which one will be best for your project:
What Is Demolition?
In a nutshell, the goal of demolition is simple: You want to tear down the structure so that you can move forward with building a new one. Most demolitions do little to try to save any essential parts of the building, and the goal is often to get rid of the existing structure as quickly as the construction company realistically can. As a result, the shorter timeframe also tends to be less costly than deconstruction.
Demolition typically requires a smaller team of professionals and is best for business owners on a strict timeline. You won't find many benefits when it comes to incentives or tax write-offs for demolition in the same way that you would with deconstruction.
That being said, you still need a crew of experienced workers. Demolition is not a process that should be taken lightly, as serious safety concerns can crop up. Leave it in the capable hands of professionals rather than trying to muddle your way through a project on your own.
What Is Deconstruction?
On the other hand, deconstruction takes a more mindful approach to tearing down a building. While the end result is the same, it will take much longer for a company to deconstruct an existing structure because they're trying to salvage what they can from the building. For example, you may be able to save and then reuse expensive elements such as wooden beams or flooring.
Even if you don't intend to reuse these items, they can be recycled. You might even be able to donate them to companies that reuse building materials, such as Habitat for Humanity. Either way, this makes the process of deconstruction better for the environment and community.
As a result of the extra time and labour that goes into deconstruction, you can expect to pay more for a service like this. However, you might be able to get some of that money back in the form of tax write-offs for some of the salvaged materials).
Hire the Experts
Whether you need to demolish or deconstruct a property, you must make sure that you're hiring a team of seasoned professionals. These are serious tasks and should be undertaken only with the complete knowledge of how the project should be handled for everyone's safety. When you require demolition in Winnipeg, Winnipeg Demolition can help. Contact us today to learn more about our services!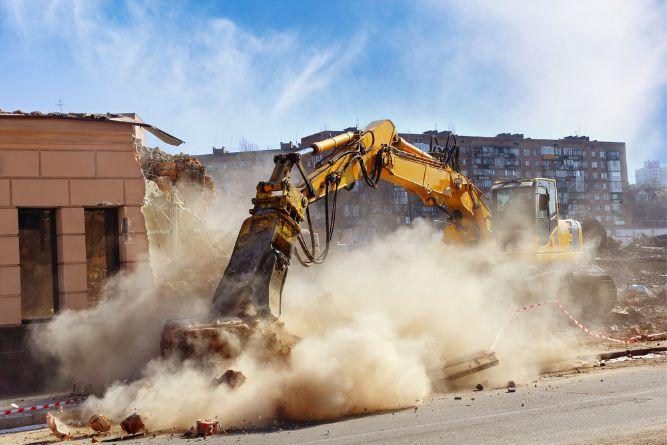 Tackling a demolition project can be daunting, with many steps involved to get the best job done. The good news is that you can prepare for your upcoming demolition with just a few simple steps. The following five things you need to do for a major project are relatively easy and give you the best chance of success when knocking down a building from scratch.
1. Interview Companies
You may want to go with something other than the first company that you land on in Google. Take your time interviewing different companies. Ask what sets them apart and what their preferred method for demolition is, and work to establish clear goals for your upcoming project.
2. Determine Your Demolition Method
Not all demolition is created equally. The first thing you'll need to do after setting your budget and interviewing companies is to create a plan. This involves determining what type of demolition your project requires. In most cases, mechanical demolition will be the most cost-effective way to go. This entails using machinery to tear down the building and carting the debris away in a dumpster.
On the other hand, you might pursue deconstruction, which allows you to salvage materials for a future project. It will be more expensive because of the extra labour involved. Depending on the project, you can also choose to do a combination of the two demolition types.
3. Obtain Proper Permits
Before knocking down a single wall, you must ensure you're adequately prepared. Arm yourself with permits. This may require some inspections of the property before the start of your demolition, but it's one step that should never be skipped. It ensures your property meets the requirements for a tear-down.
4. Notify Neighbours
The kindest thing to do is to notify your neighbours (even if it's a commercial business) that you're about to undergo a massive change. Letting them know they can anticipate lots of noise and mess on the property beside theirs is a great way to be neighbourly. A lot of messy things can happen on a job site. Preparing them in advance can help you maintain a positive relationship with them.
5. Disconnect Your Services
Last but not least, you must make sure that you disconnect all services to the property before demolition can begin. Services like electricity and gas can pose serious risks to your demolition team if they're not disconnected prior to starting. You should make sure that all of the utilities are turned off, including water and sewer.
Allow the Professionals To Help
Are you ready to move forward with an upcoming demolition? Winnipeg Demolition has the expert experience to handle your project with ease. Next time you need a demolition in Winnipeg, reach out to us to see how we can assist!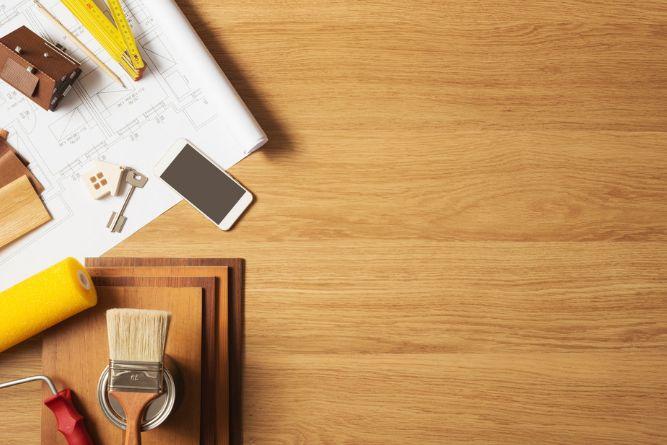 Tackling a major home remodel project can be stressful no matter what time of year you start to reach out to contractors. However, timing it right can make the process smoother and may even serve to speed up your timeline. The question is: What time of year is ideal for construction, and what can you expect from each season?
Learn more about when you should contact Winnipeg Demolition for your remodelling project below:
Winter
As you might imagine, winter is one of the slowest seasons for contractors. With the exception of consumer shopping for the holidays, many other markets slow down, and construction is no exception. If you don't mind being inconvenienced during the holidays or if you aren't hosting a family event, you might be better off trying to check off some of your home to-do list items in the snowy season.
Because contractors are less busy, you'll get the benefit of their full attention on your project. They'll be able to return phone calls faster and make it to your job site more regularly.
Fall
While winter may be the prime season for a home remodel project due to availability, fall is the best season due to weather. If you plan to tackle an outdoor remodelling project, then you should think about hiring contractors for the autumn. Contractors are a little less busy than they are in the spring and summer months; the warm months are usually the high season for construction projects.
Plus, there's no snow on the ground that can impede progress for days or weeks on end. Winter weather can lead to long delays on a project. If wrapping up quickly is important to you, it may be best to arrange for construction in the fall.
Spring and Summer
For those who don't mind waiting their turn, summer is often the preferred season. People are busy in the spring with the end of the school year and preparing for those long summer vacations. However, summer brings with it the possibility of taking time off work to tend to much-needed home remodels.
The weather is ideal for many things, though humidity levels could cause problems with some projects like painting. It's also important to note that you may have difficulty procuring materials because of the number of construction projects going on.
Keep in mind that you'll need to contact contractors well in advance if you want a summer renovation. Contractors are much busier in this season and may not get back to you as quickly as they can in the fall and winter.
When Will You Hire for a Remodel?
Every season has its advantages and disadvantages when it comes to a home remodel. Whether you're looking to tear down a few walls or you need asbestos removal in Winnipeg, Winnipeg Demolition is here to help. Contact us today to get on our books for your next home remodel!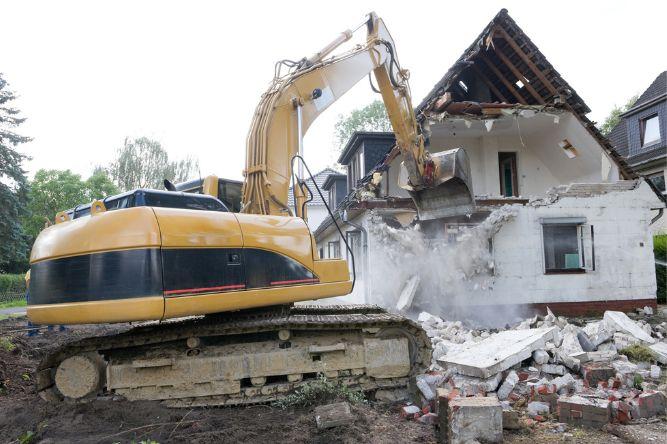 Demolition is a highly technical field that requires lots of experience to do well. Many people are under the impression that demolition is chaotic, that anyone can do it, and that it's bad for the environment. Are you ready for some myth busting?
What's the truth when you're in need of demolition services? Here's a guide to the top three myths we encounter about demolition:
Anyone Can Do It
One of the most prevalent myths is the idea that anyone can pick up a sledgehammer and start to demolish a property. While this could certainly be done, without the knowledge about proper safety and avoiding potential hazards, it can be very dangerous. Managing tools, equipment, and heavy machinery requires specialized knowledge and skill sets that are developed with training and over time.
If someone is working on your property, ensure they have the knowledge and experience to back them up.
Demolition Is Chaotic
To the outside observer, demolition likely looks like a chaotic free-for-all; construction workers are knocking down buildings and walls. It makes sense that it seems like there is little method to the madness, but this couldn't be further from the truth.
Each move that a demolition worker makes must be calculated and precise to prevent injury on the job site. This ties back into our last myth, where each worker must be highly skilled and have the proper experience to do demolition well.
In some cases, a demolition crew may actually need to blow up a building using explosives. This is always done with the utmost care to protect everyone on the job site and the surrounding area from danger. It requires years of experience, and not everyone can safely use explosives to tear down an old structure, particularly if it's connected to other buildings or near power lines.
Demolition Is Bad for the Environment
A common misconception is that when a building is knocked over, all of the items are discarded. While some demolition companies may send entire buildings to a landfill, this isn't the norm for the industry. On the contrary, most demolition crews are very organized and do their best to reuse or recycle materials that are still in good shape.
They may even be able to reuse those materials in the construction of a new building or property. All of this decreases greenhouse gasses and saves the energy it would take to discard those materials or make new ones. In the end, it's a very environmentally-friendly process.
So, Only Trust the Professionals
While many myths abound regarding demolitions, the consensus is that you need professionals to help you. Winnipeg Demolition has the experience and skills you need to feel assured that tearing down your building will be done the right way the first time. Give us a call today to learn more about the services we offer and how we can help you with your next project!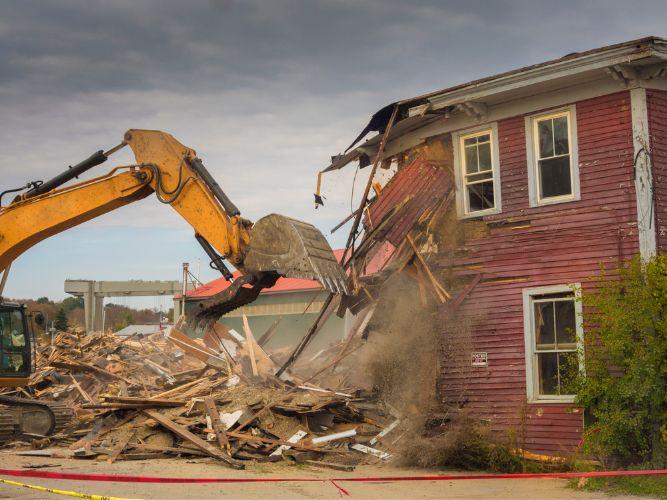 Demolition may seem like a negative thing when you're talking about tearing down structures that have seen better days. However, this one simple act can actually be great for the community as a whole. For starters, it gives the neighbourhood more aesthetic appeal, but it goes deeper than that. How does tearing down an old building benefit the entire neighbourhood?
Learn more about the ways that demolition can actually benefit the community here:
Thinking About Safety
One of the key ways that responsible demolition can benefit the community is by getting rid of the unsafe and abandoned buildings in an area. For example, some neighbourhoods are overrun with old gas stations or even buildings that focused on chemical manufacturing. With the right team of demolition professionals, these hazards are better managed and can be safely removed from the area.
Getting Rid of Old Structures
Every neighbourhood has a few old buildings that it may not mind having restored. Demolition allows experts to come in and eliminate structures that are no longer safe for people to be in or around. The reason this benefits the community is two-fold. First, it allows neighbourhoods to get rid of structures that could collapse or lead to injury in the near future.
Second, it makes room for newer development to take place that can improve the community overall. You have to find a safe way to let go of the past in order to move forward.
Recycling
If a demolition company deems that a building isn't able to be restored, it might be time to tear it down and start fresh. While this can seem like a waste at first glance, it doesn't necessarily have to be. Demolition professionals are often quite experienced in what can be recycled for use on future projects.
This makes new construction more sustainable for the local environment as fewer items will need to be purchased, manufactured, or shipped in for these new buildings. Recycling allows everyone to feel more productive and to better use the resources that are available to them for future projects that might take this building's place.
Disasters
When disaster strikes, many people call on first responders and neglect the work that demolition crews bring to the issue at hand. When a building has been damaged beyond repair, demolition crews often work hand-in-hand with first responders for search and rescue.
Even if that isn't the case and search and rescue isn't necessary with the natural disaster in your community, knocking down compromised buildings can be a great way to start fresh.
Get Started Today
Have you been putting off a demolition project because it seems like a lot of work? Don't hesitate, as there's much to be gained through the process of tearing something down and starting fresh. If you need a demolition in Winnipeg, be sure to reach out to the professionals at Winnipeg Demolition. Give us a call today to learn more about how we can help you with your next major project!
A building inspection or a land survey may be required for your home if you're having work done on it. Here are a few quick guidelines that you can follow to make sure that your building stays up to code according to the rules in Winnipeg.
Here is everything you need to know about when inspections and surveys are required during a renovation of your home.
When Is an Inspection Required?
Homeowners may wonder when an inspection is required for their property. The majority of inspections are to be completed before the certificate of occupancy is issued, but remodels may also prompt the local permitting office to complete an inspection. There are several times when an inspection may be mandatory, starting with the foundation of the house.
Building
In Winnipeg, the initial building must be inspected from the foundation all the way to the structural framework. As the building process progresses, you will also need an inspection for the interior finishing of the home up to and including the roof. If you're starting from scratch, it will take multiple inspections to cover all of these bases.
Plumbing
Plumbing is another very important aspect of the home that requires a building inspection. If you had to pull a permit for modifications to your plumbing, chances are that an inspection will be required before that permit can be closed out. An inspector will take a closer look at the plumbing from three feet outside the basement to the drainage and potable water pipes.
Mechanical
In addition to plumbing, you'll also need to have all indoor mechanical systems inspected. This can include heating, ventilation, and even the installation of sump pumps. Once again, if you had to pull a permit for the installation of these items, then you will likely need a building inspector to sign off that the work was completed properly.
Electrical
Anything to do with the electrical in your building will likely require an inspection. This is valid for both interior and exterior wiring.
When Should You Get a Survey?
A survey is a bit different than an inspection. Instead, a survey looks at the land upon which your home is built. Before you make any major modifications to your property (such as installing a fence) or even before you decide to sell the property, make sure you know where the boundaries are with a property survey.
This can be done at any time and will prevent you from accidentally building on land that doesn't belong to you.
Hiring the Right Demolition Company
Are you prepared to make major updates to your home or business? If so, you might find a need for asbestos removal in Winnipeg. Trust the experts with this dangerous business and give Winnipeg Demolition a call to see how we can help you make your home safer!
If your home or building was built before 1990, it may contain asbestos. When asbestos is undisturbed, it does not pose health risks. When it is moved, however, it can release small fibres into the air. When these fibres enter a person's lungs, they can cause serious health problems, including lung cancer and mesothelioma.
To understand why asbestos was used so commonly, and what its potential health consequences are, we recommend reading the Canadian Centre for Occupational Health and Safety's page on asbestos.
Before a home or building is demolished, it must be checked for asbestos, and any asbestos that is found must be removed. This article will help you understand what is involved in asbestos removal, and what your responsibilities are as a property owner, contractor, or employer engaged in demolition.
Inspecting Your Property for Asbestos
In Manitoba, your first responsibility is to inspect the property for asbestos if you suspect there may be asbestos. In Canada, many buildings built prior to 1990 contain asbestos. This means that if your building is older than that, there's reason to suspect asbestos in at least some parts of the building, be it the insulation or the popcorn ceiling.
You can talk to your demolition contractor if you're unsure, but an abundance of precaution is necessary when it comes to asbestos, and almost every building built prior to 1990 should be inspected.
The rules in Manitoba are pretty straightforward: any product suspected to contain asbestos must be tested for asbestos. Products are tested in a laboratory. If products and materials are not tested for asbestos but are suspected of containing asbestos, they must be treated as though they do contain asbestos and removed accordingly.
Removing Asbestos
Asbestos removal must be handled by well-trained professionals who are skilled at mitigating the risks of asbestos. These professionals will use equipment and techniques that prevent the release of asbestos fibres. It's important to understand that this isn't just advice we're giving you - this is in the asbestos removal requirements laid out by the Government of Manitoba.
You need professionals who are specifically trained in asbestos removal.
Renovating? You May Need Asbestos Removal
If your renovation involves any demolition, and there are materials suspected of containing asbestos in your building, you'll need to have those materials checked for asbestos - and, if they do contain asbestos, you'll need to have them removed by a professional.
This means that if you're engaged in major bathroom or kitchen renovations, and your building was built prior to 1990, you'll probably need someone to check for asbestos.
Many Different Products & Materials May Contain Asbestos
The list of building materials and products that can contain asbestos is staggering. Insulation, roof felt and shingles, fuse boxes, stucco (popcorn ceilings), outlets, flooring, and more can contain asbestos. Don't assume there's no asbestos just because you don't have blown-in insulation!
Call the Professionals
Looking for a contractor who offers demolition services, asbestos testing, and asbestos removal in Winnipeg? Call Winnipeg Demolition to request a quote from our experts.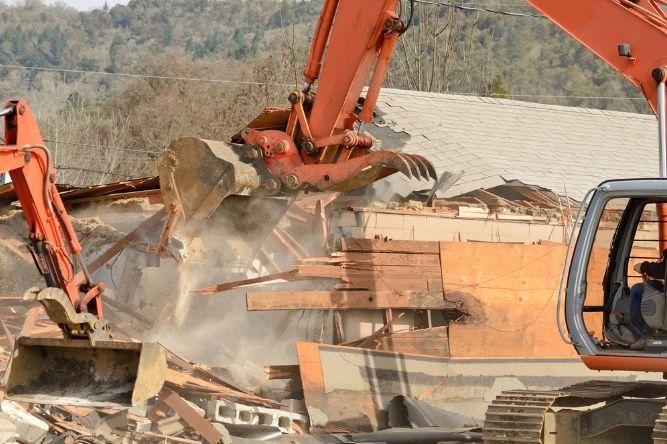 Whether you are building a new home or a new business, you might wonder what the differences are when it comes to the demolition of the older building. Most people envision heavy machinery plowing down an old building to make room for the new. While this can certainly be true, there are finer points about demolition that you might want to understand before beginning.
What are the differences between residential demolition and commercial demo? Residential demolition refers to anything related to a home or a living space while commercial demolition refers to the deconstruction of a business. Let's take a closer look beyond these basic definitions.
Timeframes
One of the key differences between residential demolition and commercial demolition is the amount of time that it takes. During a residential demo, you may be renovating an existing home which requires some time but not as much as knocking down the building to start over. It tends to be demoed on a much smaller scale than what you would encounter with commercial projects. As a result, it often requires less time than a commercial demo.
Equipment
When a construction crew is doing demolition on a home, they often use smaller equipment to account for the smaller size of the building. They may use small excavators as opposed to cranes and bulldozers. This is especially true if they are doing just a small-scale remodel as opposed to tearing down the whole structure. Commercial demolition frequently allows for more space, so heavier equipment can be used, which can speed up the process.
Permits & Planning
Permits and planning are important aspects of any construction project, whether you are doing demolition or an intense renovation. Both types of projects often require permits before you can start on the job. However, commercial projects and residential projects will require different sets of permits during the planning stages.
Keep in mind that they will both be subjected to some of the same guidelines in this area though. For example, the property will need to be officially inspected. You will also need to ensure that all of the utilities are turned off and disconnected properly before your deconstruction crew begins to demolish walls, pipes, electrical wiring, and more.
Finding a Licenced & Insured Contractor
One of the most important aspects of demolition for both types of projects is finding a qualified and competent contractor. Look for companies that are licenced and insured to protect you and your property in case something goes amiss. This also ensures that your contractor has the experience and knowledge necessary to complete your project. Never allow just anyone to start tearing down walls and structures until you have verified that they know what they are doing and are protected by their insurance. Winnipeg Demolition would love to help you with your next demo project, whether it is for a residential property or a commercial building. Learn more here about what we offer our clients and how we can help you finish your project in a safe and timely manner!
What Is Interior Demolition?
Have you ever watched a wrecking ball bring a building to its knees? At a demolition site, skyscrapers are reduced to piles of rubble within a few weeks. But the interior demolition process is a bit more subtle—from the outside, at least.
During interior demolition, contractors break down select areas in a home or commercial building. They demolish things like:
Walls
Appliances
Floors
Ceilings
Furniture
Plumbing
Electrical
An interior demolition contractor can completely gut your space; this gives you a clean slate for your upcoming remodelling or renovation project. Here's what the interior demolition process looks like:
Preparing & Applying for Permits
We've all seen those movies where homeowners take a sledgehammer to the walls and tear them down, without any preparation. They make it look easy. In reality, interior demolition is incredibly complex.
Every project requires careful planning; otherwise, demolition work could weaken the structure of the home, or expose its inhabitants to hazardous materials.
First, there's the issue of acquiring permits. In Winnipeg, you need to obtain a demolition permit before removing part of any residential building, whether it's the interior or the exterior. This is something you can ask your contractor crew about while they're giving you an estimate.
Next, the contractors will assess the building for any potential safety hazards. They'll examine the materials in your home to check for things like asbestos, lead paint, or mould. If they identify any hazardous materials, they'll need to plan how to minimize exposure to them and dispose of them safely.
Are you planning to demolish any walls inside your home? If so, the contractors will first need to assess whether they're load-bearing walls. These walls are integral to a building's structure; if they're torn down, it may cause the floors or ceilings to sag. Contractors will need to reinforce the building structure before removing these walls.
Disconnecting Utilities
Behind a wall, there may be water lines, gas lines, or electrical wiring. If these utilities are active and damaged during demolition, it may result in water damage or fire hazards. Contractors must disconnect all utilities before they get started. In some cases, you must disconnect utilities before you can obtain a permit for the demolition.
Selecting a Time
Demolition is noisy work; it may be disruptive to others during the evenings or late hours of the night. Whether your building is in a residential or commercial area, the timing of the demolition service is important.
At a workplace, noise and dust production can interfere with productivity. You may need to plan the time of the demolition around what works best for your neighbours or employees.
Waste Disposal & Clean Up
Interior demolition creates a substantial amount of waste material. Construction and demolition debris can't be tossed away in your typical garbage can. And there's a reason for that: these materials can often be recycled and reused in future projects.
When you're hiring a demolition crew for your project, ask them about their waste disposal policies. Depending on the scope of your demolition project, it might be worthwhile to rent a dumpster to help with managing garbage.
Looking for Interior Demolition Services?
At Bulldog Demolition, our contractors do it all. We'll take care of everything from drywall removal to floor tile demolition. We've got the equipment and the experience to make your project a success. To book our demolition services in Winnipeg, call now.