If your home or building was built before 1990, it may contain asbestos. When asbestos is undisturbed, it does not pose health risks. When it is moved, however, it can release small fibres into the air. When these fibres enter a person's lungs, they can cause serious health problems, including lung cancer and mesothelioma.
To understand why asbestos was used so commonly, and what its potential health consequences are, we recommend reading the Canadian Centre for Occupational Health and Safety's page on asbestos.
Before a home or building is demolished, it must be checked for asbestos, and any asbestos that is found must be removed. This article will help you understand what is involved in asbestos removal, and what your responsibilities are as a property owner, contractor, or employer engaged in demolition.
Inspecting Your Property for Asbestos
In Manitoba, your first responsibility is to inspect the property for asbestos if you suspect there may be asbestos. In Canada, many buildings built prior to 1990 contain asbestos. This means that if your building is older than that, there's reason to suspect asbestos in at least some parts of the building, be it the insulation or the popcorn ceiling.
You can talk to your demolition contractor if you're unsure, but an abundance of precaution is necessary when it comes to asbestos, and almost every building built prior to 1990 should be inspected.
The rules in Manitoba are pretty straightforward: any product suspected to contain asbestos must be tested for asbestos. Products are tested in a laboratory. If products and materials are not tested for asbestos but are suspected of containing asbestos, they must be treated as though they do contain asbestos and removed accordingly.
Removing Asbestos
Asbestos removal must be handled by well-trained professionals who are skilled at mitigating the risks of asbestos. These professionals will use equipment and techniques that prevent the release of asbestos fibres. It's important to understand that this isn't just advice we're giving you - this is in the asbestos removal requirements laid out by the Government of Manitoba.
You need professionals who are specifically trained in asbestos removal.
Renovating? You May Need Asbestos Removal
If your renovation involves any demolition, and there are materials suspected of containing asbestos in your building, you'll need to have those materials checked for asbestos - and, if they do contain asbestos, you'll need to have them removed by a professional.
This means that if you're engaged in major bathroom or kitchen renovations, and your building was built prior to 1990, you'll probably need someone to check for asbestos.
Many Different Products & Materials May Contain Asbestos
The list of building materials and products that can contain asbestos is staggering. Insulation, roof felt and shingles, fuse boxes, stucco (popcorn ceilings), outlets, flooring, and more can contain asbestos. Don't assume there's no asbestos just because you don't have blown-in insulation!
Call the Professionals
Looking for a contractor who offers demolition services, asbestos testing, and asbestos removal? Call Winnipeg Demolition to request a quote from our experts.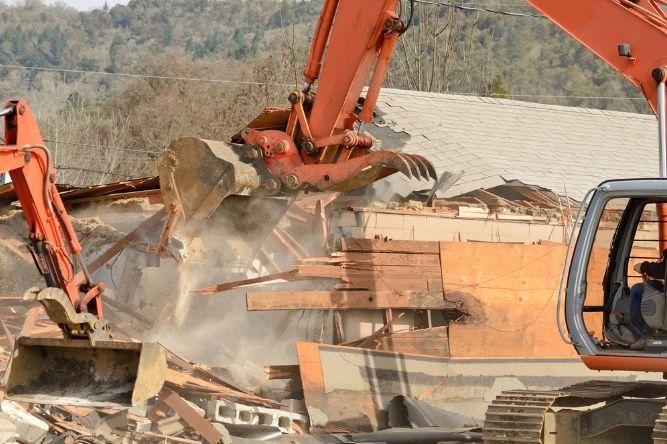 Whether you are building a new home or a new business, you might wonder what the differences are when it comes to the demolition of the older building. Most people envision heavy machinery plowing down an old building to make room for the new. While this can certainly be true, there are finer points about demolition that you might want to understand before beginning.
What are the differences between residential demolition and commercial demo? Residential demolition refers to anything related to a home or a living space while commercial demolition refers to the deconstruction of a business. Let's take a closer look beyond these basic definitions.
Timeframes
One of the key differences between residential demolition and commercial demolition is the amount of time that it takes. During a residential demo, you may be renovating an existing home which requires some time but not as much as knocking down the building to start over. It tends to be demoed on a much smaller scale than what you would encounter with commercial projects. As a result, it often requires less time than a commercial demo.
Equipment
When a construction crew is doing demolition on a home, they often use smaller equipment to account for the smaller size of the building. They may use small excavators as opposed to cranes and bulldozers. This is especially true if they are doing just a small-scale remodel as opposed to tearing down the whole structure. Commercial demolition frequently allows for more space, so heavier equipment can be used, which can speed up the process.
Permits & Planning
Permits and planning are important aspects of any construction project, whether you are doing demolition or an intense renovation. Both types of projects often require permits before you can start on the job. However, commercial projects and residential projects will require different sets of permits during the planning stages.
Keep in mind that they will both be subjected to some of the same guidelines in this area though. For example, the property will need to be officially inspected. You will also need to ensure that all of the utilities are turned off and disconnected properly before your deconstruction crew begins to demolish walls, pipes, electrical wiring, and more.
Finding a Licenced & Insured Contractor
One of the most important aspects of demolition for both types of projects is finding a qualified and competent contractor. Look for companies that are licenced and insured to protect you and your property in case something goes amiss. This also ensures that your contractor has the experience and knowledge necessary to complete your project. Never allow just anyone to start tearing down walls and structures until you have verified that they know what they are doing and are protected by their insurance. Winnipeg Demolition would love to help you with your next demo project, whether it is for a residential property or a commercial building. Learn more here about what we offer our clients and how we can help you finish your project in a safe and timely manner!
What Is Interior Demolition?
Have you ever watched a wrecking ball bring a building to its knees? At a demolition site, skyscrapers are reduced to piles of rubble within a few weeks. But the interior demolition process is a bit more subtle—from the outside, at least.
During interior demolition, contractors break down select areas in a home or commercial building. They demolish things like:
Walls
Appliances
Floors
Ceilings
Furniture
Plumbing
Electrical
An interior demolition contractor can completely gut your space; this gives you a clean slate for your upcoming remodelling or renovation project. Here's what the interior demolition process looks like:
Preparing & Applying for Permits
We've all seen those movies where homeowners take a sledgehammer to the walls and tear them down, without any preparation. They make it look easy. In reality, interior demolition is incredibly complex.
Every project requires careful planning; otherwise, demolition work could weaken the structure of the home, or expose its inhabitants to hazardous materials.
First, there's the issue of acquiring permits. In Winnipeg, you need to obtain a demolition permit before removing part of any residential building, whether it's the interior or the exterior. This is something you can ask your contractor crew about while they're giving you an estimate.
Next, the contractors will assess the building for any potential safety hazards. They'll examine the materials in your home to check for things like asbestos, lead paint, or mould. If they identify any hazardous materials, they'll need to plan how to minimize exposure to them and dispose of them safely.
Are you planning to demolish any walls inside your home? If so, the contractors will first need to assess whether they're load-bearing walls. These walls are integral to a building's structure; if they're torn down, it may cause the floors or ceilings to sag. Contractors will need to reinforce the building structure before removing these walls.
Disconnecting Utilities
Behind a wall, there may be water lines, gas lines, or electrical wiring. If these utilities are active and damaged during demolition, it may result in water damage or fire hazards. Contractors must disconnect all utilities before they get started. In some cases, you must disconnect utilities before you can obtain a permit for the demolition.
Selecting a Time
Demolition is noisy work; it may be disruptive to others during the evenings or late hours of the night. Whether your building is in a residential or commercial area, the timing of the demolition service is important.
At a workplace, noise and dust production can interfere with productivity. You may need to plan the time of the demolition around what works best for your neighbours or employees.
Waste Disposal & Clean Up
Interior demolition creates a substantial amount of waste material. Construction and demolition debris can't be tossed away in your typical garbage can. And there's a reason for that: these materials can often be recycled and reused in future projects.
When you're hiring a demolition crew for your project, ask them about their waste disposal policies. Depending on the scope of your demolition project, it might be worthwhile to rent a dumpster to help with managing garbage.
Looking for Interior Demolition Services?
At Bulldog Demolition, our contractors do it all. We'll take care of everything from drywall removal to floor tile demolition. We've got the equipment and the experience to make your project a success. To book our demolition services in Winnipeg, call now.