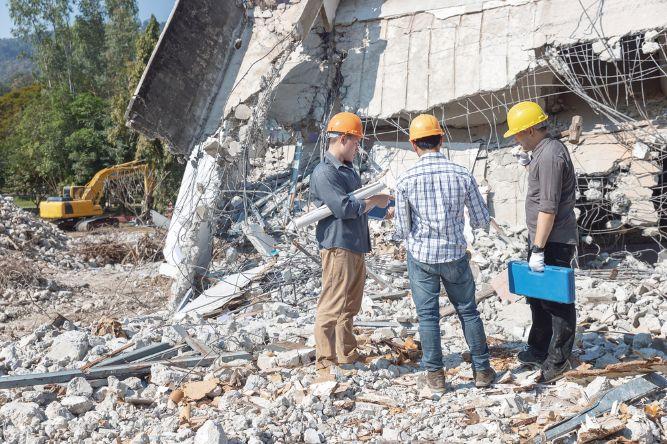 Demolition can be a messy process with severe repercussions for those not taking the proper safety precautions. Knowing what you can do to protect workers from demolition equipment and keep surrounding areas from harm is essential to a job well done. 
Instead of crossing your fingers and hoping for the best, here are a few key ways to implement more safety procedures:
Personal Protective Equipment
The first and easiest thing you can do to minimize harm to your workers during demolition work is to enforce the wearing of personal protection equipment. This can include items that protect the head, such as a hard hat, but it goes even further. Depending on the circumstances of your demolition operations, they may need eye, face, head, hand, and/or foot protection.
Also, consider respiratory protection devices if there will be lots of dust or hazardous substances involved in the demolition.
Engineering Survey
Before tearing down any exterior walls, you should ensure an engineering survey is completed. A good survey will determine whether the building will likely collapse unexpectedly during top-down demolition projects.
It also alerts you to where the utilities are located so that they can be moved and secured before demolition begins. This is especially true of electrical safety.
Hearing Protection Devices
In addition to being wary of falling or flying objects, you also need to ensure that your crew is safe from loud noises inherent to a demolition site. Make sure that they wear quality earmuffs that protect the safety of their eardrums and hearing. This should be a part of your personal protective equipment (PPE).
Fall Protection System
Personal fall arrest systems are crucial to protect employees. Even a competent person may be unable to avoid a fall through the floor in a demolition setting. Demolition sites are hard to navigate, even for a skilled and experienced worker. Instead of allowing them to fall through the floor openings, you can place safety nets to protect workers from falls.
Firefighting Equipment
You never know when something might go awry at a demolition site, so be prepared for the possibility of a fire. Make sure that you have fire extinguishers handy and other fire prevention tools to keep your workers as safe as possible. Not to mention, this can help workers be more aware of conspicuous warning signs if they are thinking about potential hazards like fires.
Get Professional Demolition Help
When you need to demolish a building, don't leave your results to chance. Trust the professionals with the experience to keep workers and others safe from harm. Winnipeg Demolition knows how to implement the simple acts of wearing safety goggles and head protection, but we also know how to safely dismantle a structure piece by piece.
Visit our website at winnipegdemolition.ca today to learn more about how we can help you!